This is the first part (Part II here) in a series of posts about the first web app I wrote for myself, TweetingMachine. I'll cover every aspect of its creation and development, starting at how the idea came to me, the many, many mistakes I made, and how eventually I improved the tool so much that it now brings in $500 a month, a figure that increases with each month. I realise that this isn't a huge amount of money, but it's a nice present.
December 2009: The Idea
At the time, I was getting freelance work from vWorker, and I started to see a lot of requests asking for coders to work on various Twitter-based applications. Some people wanted to create sites that let users schedule tweets; others wanted to be able to automatically follow people back; and some shady characters wanted full-on spam engines. I was looking for an excuse to learn Twitter's API, and the more I thought about it, the more I realised that I could write a web app in my free time with lots of great features, that would be easy to use, and in no time it would become the number one Twitter tool! Not only that – I could charge to access it… and people would sign up, and use it, and love it, and inside 90 days I'd be making tens of thousands each and every month!
Well, a guy can dream.
January 2010: The Execution
I had my great idea, time to get cracking on what would turn out to be the easy bit: writing the code. I'm a web developer – have been for a decade – and I know how to write web apps. Find a cheap VPS (prgmr.com – incidentally, highly recommended and have far exceeded my expectations), sketch out some database and object designs, choose a framework, and that was me up and running, coding like a demon for a good few weeks.
The important fact here is that I'm very much a developer; I have all the design skills of a dead fish. So I took a look at a few sites out there, and attempted to make something similar. This is going to be embarrassing, but here we go anyway: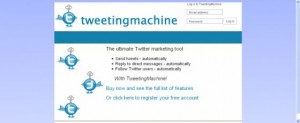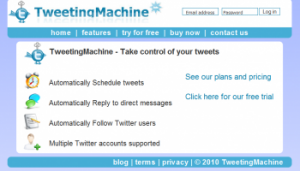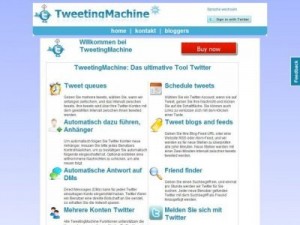 As you can see, TweetingMachine was not a pretty sight; I was still naively optimistic that my poor design skills would be ignored by the legions of customers that would be overawed by TweetingMachine's features and ease of use. I launched the site, submitted it to the likes of FeedMyApp, KillerStartups and so on. This was right before…
February 2010: The Big Pause
My girlfriend and I (along with her sister, for that matter) had decided to escape Poland's chilly winter, and spend three weeks in India instead. A fantastic time was had by all, and I occasionally managed to stop thinking about the millions of dollars that MUST be waiting in my PayPal account.
March 2010: Crashing back down to reality
Arrive back home. Check emails. Zero sales. Check server. Apache has been crashing. Cron jobs not running. Sit down. Cry. Fix up the code. Go work on something else.
April 2010: First Sale!
I should stop here to explain what I originally thought my pricing plans would look like: I was offering tiered pricing – if you wanted to use multiple Twitter accounts, it'd cost you more… and if you wanted to send more messages, that would cost you as well. Enjoying taking rash decisions, I decided to scrap the tiered pricing, and stick to a single price: $9.99/month, with a week's free trial beforehand.
Surprisingly, within a week, I had my first sale. With $9.99 in my PayPal account, I was halfway to breaking even on my monthly hosting costs, a small triumph! That said, I was starting to notice a rather nasty trend: my visitor numbers were dropping, sharply. If this carried on, I would have maybe a single visitor per day in the next month. Not having any marketing skills, I was starting to wonder what I should do.
May 2010: Internet Marketing for Dummies
I was at a loss, and started to read every basic guide out there for how to market your web app. All of them made it seem so simple: find relevant websites and blogs; contact authors and owners; ask for a review or if they'd let you publish something; and then sit back and watch the targeted visitors pour in.
Sadly with TweetingMachine that didn't happen. I started to realise that its design could really be holding the tool back… but I don't have the money to pay a designer, so what else can I do? Failing elsewhere, I added a page to the site – "Bloggers" – that offered a free year's subscription to TweetingMachine in return for a review on their blog.
Just in case you ever go down this route, you will not believe the cheek of some people. I still regularly receive emails from people demanding free subscriptions, and sending me a link to a copy of a review by someone else. Funnily enough though, in a couple of cases this has led to purchases after I got into an argument – "It's only $19.99, why don't you just buy it?!" – with the person originally trying to cheat a subscription out of me.
June 2010: Second Sale, and Desperation Kicks In
Suddenly, my second sale arrived: I was now breaking even on my monthly hosting costs! I decided to ignore the design problem: with enough features, SEO and gimmicks, surely I'd start to make enough money to pay for a designer? So, in my free time I worked on these three aspects:
1) As mentioned, adding more features. Otherwise known as reading my competitor's websites, and working out how to do what they're doing, but do it better.
2) SEO. I started reading every SEO guide out there after realising how many basic mistakes I was making (such as having  a title tag consisting of the word TweetingMachine alone)
3) Gimmicks. Another embarrassing confession, but honestly – this is how desperate I was. I made TweetingMachine translation-friendly, and then set about adding Google Translate versions of every language I could find. I later realised quite how terrible and irritating the translations were when the visitor logs showed non-English visitors repeatedly choosing the English version of the site, usually after viewing a single page in their native tongue.
July 2010 – September 2010: Close to Giving Up
The pattern of low usage and sales continued over the next few months. I gained 10 subscribers, over half of whom cancelled after a month's usage… and honestly, I lost interest in the project, now hating the design, and the feature set.
One evening though, I got in contact with a friend I hadn't spoken to in ages. He mentioned a website that was paying his rent, and I expressed my frustration about TweetingMachine's lack of income. I think at this point, total monthly revenue was $30.
Have you ever felt really, really stupid? I excel in stupidity, missing common sense and so on, and as the conversation progressed, the familiar feeling swept over me once again. My friend told me "Yup, honestly your site's design sucks. Why don't you go on ThemeForest, buy this theme for the front-end, this theme for the tool itself, and hey – you only need a couple of subscribers for a couple of months, and the themes will have paid for themselves."
Well knock my down with a feather; decent designs are available for not much money at all! My friend had made a great argument. I paid the $50, and got to work.
Coming up in part II: turning things around.